The 39th match of the Indian Premier League (IPL) Season 10 will be played between Rising Pune Supergaints and Gujarat Lions. From 8 pm onwards in the Maharashtra Cricket Association International Stadium.
Both teams will be face-to-face for their 10th match. Pune's team has won 5 in their 9 matches played so far and have lost 4. Along with this, Pune's team has remained at the fourth position with 10 points. On the other hand the Gujarat team, which played 9 matches this season, has lost 6 matches and the team has won only in 3 matches. At present, Gujarat's team has remained 6th with 6 points.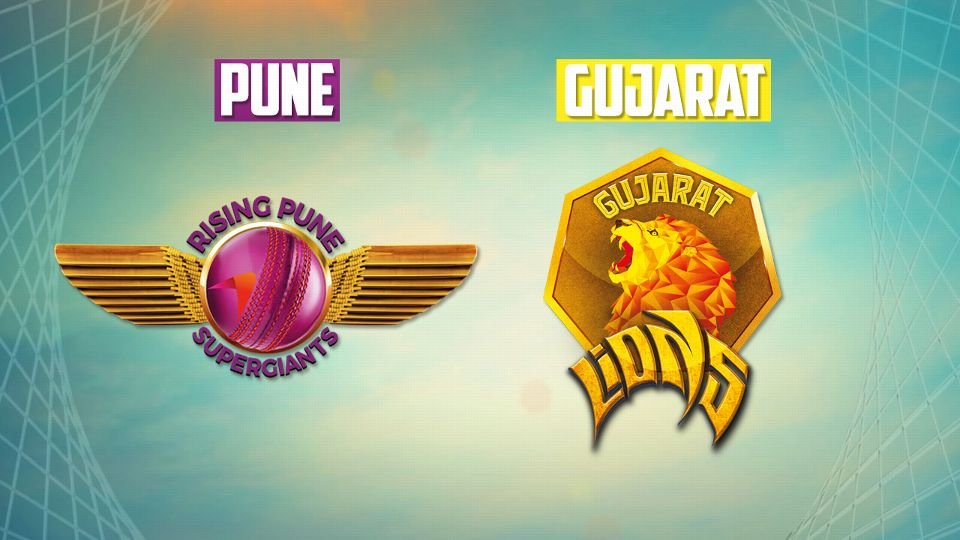 This season Gujarat had won a powerful victory over Pune in the match played earlier. After which the Pune team will land on the field to take revenge for the defeat fron Gujarat. At the same time, the team of Gujarat will also keep their hope alive to maintain the winning goal.
Rising Pune Supergiants vs Gujrat Lions Live Score & Team Details

Match : Rising Pune Supergiants vs Gujrat Lions
Vanue : Maharashtra Cricket Association's International Stadium, Pune
Time : 08:00 PM

There have been no runs from Dhoni's bat in a lot of matches from Pune. This time the team will have lot of expectations from Dhoni. If Dhoni score runs then the Pune team fights the match. In addition, captain Steve Smith is making consistent runs for the team. With this, Manoj Tiwary and Ajinkya Rahane are also expecting the team in Pune's batting. At the same time Deepak Chahar, Ben Stokes, Imran Tahir and Ashok Dinda can bowl in bowling.
Lions team have got a lot of strength from Suresh Raina, Brendon McCullum and Aaron Finch . Captain Suresh Raina is in the captaincy and a great form in the batting continues. But the lack of edge in bowling is seen continuously. There is a lot of expectations from Andrew Tye ,  who put the hat-trick for the team.
The Gujarat Lions  had to face the defeat in the exciting Super Over in Rajkot from Mumbai Indians last night, which was quite disappointing for them. However, it may be difficult to forget this close knock and return. The Lions team would be happy that they took the match up to Super Over while they were defending the target of 154 runs.